So hats off to Donald Russell! The Dunk Design #CreativeBrains brand of the week.
In the last week of August, my normal pack of Donald Russell promotional offers fell on my doormat. I have only ever bought one thing from them, recommended to us by a chef at Simpsons on the Strand – so definitely a brand with some kudos.
I always save the pack for my partner, who also loves looking at the meat on offer and dreaming of sumptuous steaks, delicious roasts and BBQs that are so tasty it doesn't matter it's raining. But this month the covering letter made me take a second look.
The ritual was normally to take the flyers out of the pack and save them for my partner. I wouldn't bother with the loud envelope that screams MEAT, as it comes through the door, or the letter that will no doubt just waffle on about something that seems to take 4 paragraphs to get across. We're only interested in the fantastic photography and dreaming of what we could do if we had the time.
But this time the opening line in the covering letter was genius!
It caught my eye and made me stop!
"I couldn't help but notice that despite being a customer of ours, we haven't yet tempted you with anything this year. Did we let you down in some way?"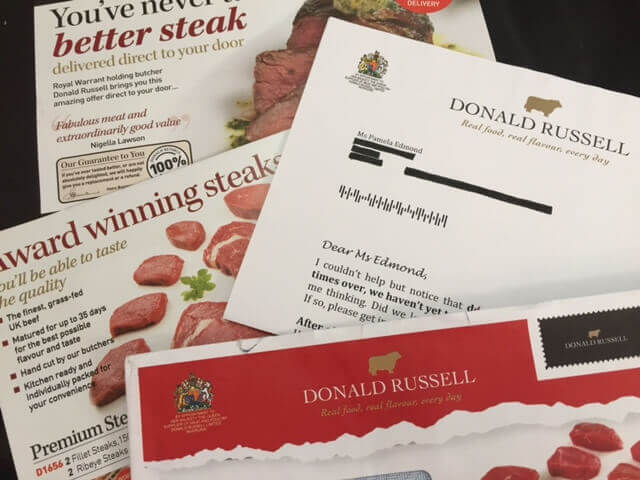 Brilliant! I was immediately impressed. I also wanted to immediately respond with, "no, no, we love receiving your promotions, please don't stop".
And for a moment I was feeling guilty for not buying more from them.
Marketing head back on, I was impressed.
The copy was cut-through, attention grabbing, and created an emotional response that would result in a transaction. Not to mention my continued love of their overall brand.
Although the opening line was simple enough, I also realised they'd also undertaken some brilliant data analysis to bring this message to me. They've looked at my transaction history, understood my purchasing behavior and realized they needed a different approach to a segment of their customer base that was displaying similar behaviours.
The perfect strategy. And, what I have to say, reminded me of the good ol' days of marketing. There was no digital integration, online app, or sexy brand campaign – not to say these aren't all important tactics in getting a message that invokes a response. It was just a simple line of copy that connected with the audience as it was meant to, through good old fashioned direct mail.
Friday night, date night, will therefore consist of a wonderful Pave Rump Steak combined with perfectly prepared roast potatoes and steamed spinach. As selected for me by the Donald Russell Head Butcher, Mark Farquhar.